For the past 19 years Lynn and I have been conducting relationship and marriage conferences. Our work has taken us across this nation, into foreign countries, and into the lives of thousands of Christian men and women struggling with the issues of divorce and remarriage. Many had experienced the trauma of divorce yet many others were in places of leadership and were wrestling with the practical application of the biblical text. As a result, over fifteen years ago I determined to prayerfully restudy the topic.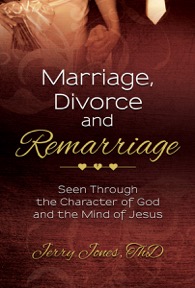 Through the years I have read and researched reams of material written on this subject. I have studied with conservative rabbis to better understand the Hebrew Bible. I have spent hundreds of hours with numerous preachers and church leaders gleaning insight from their study and experiences. Most importantly I have studied and restudied the biblical text and have challenged many of my previously held conclusions. I was forced to examine how I looked at scripture and admit how little I really knew about the topic.
Undoubtedly my study is an ongoing process, but I finally decided to put into print what I had learned. The resulting manuscript, Marriage, Divorce, and Remarriage: Seen Through the Character of God and the Mind of Jesus is scheduled to be released by College Press in Joplin, Missouri, this fall. The heart of the book includes an in depth study of 1 Corinthians 7 and the divorce texts in the gospels. An accompanying study guide for classroom use will be available for download through our website. Certainly this volume is not the "final word" on this subject, but I pray it will spawn further conversation, research, and study on the topic.
My desire is that it will also provide guidance as the church attempts to reach out to a lost and broken world.